Harvey H Lowrey High School
Class Of 1967
In Memory
Michael Jacek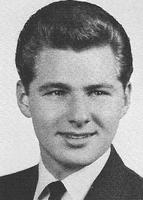 It's with heartfelt sadness that I forward this note that I received today from Donna Janes Shaw:
I am heartbroken to relay this message. On December 21, Mike Jacek died at Beaumont Hospital after a month long battle with Covid. Vicki and his daughters and grandchildren are devastated. Mike loved his Lowrey days and loved working on the reunions. He was a very dear friend who will be missed forever. Donna
Mike was married to Vicki Van Assche from our class. They have 3 married daughters and 8 grandchildren. He was a proud Dad and Grandpa. Went to all the kids' activities....football, baseball, basketball, cheerleading, even travelling out of state.
He and Vicki and the Shaw's were very close. Mike was Godfather to their daughter.
As Donna mentioned in her note, Mike loved working on our reunions. For many years the Shaws and the Jaceks coordinated our class reunions . For our 50th, Mike arranged for the Teen Angels to perform oldies but goodies.