Harvey H Lowrey High School
Class Of 1967
In Memory
William Phillip Opp VIEW PROFILE
Opp, William Phillip William was born on June 22, 1949. He passed away on January 15, 2018. Son of Kenneth F. Opp and Irene A. Opp; brother to Susan Opp, Kenneth Opp and Linda Opp, who all preceded him in death, along with his beloved Samoyeds Misty, Crystal and Holly. Bill graduated from Harvey H. Lowrey High School in 1967, where he lettered in football and basketball. He earned his Bachelor degree in history from Northern Michigan University in Marquette, and came to enjoy the natural beauty of the Upper Peninsula and the Lake Superior shoreline. He worked for many years for Olson Cement, installing driveways and porches throughout the Detroit Metro area. Bill was a valued friend to many, with a generous heart and great sense of humor. He was a devoted and longtime follower of the Detroit Red Wings and the Green Bay Packers, and a lifelong fan of the music of the Moody Blues. Bill is survived by his nephew, Steven K. Opp, his niece, Lynda Minger, and special friends, Carol Kivi and Carol Pasut. At his request there will be no funeral service. Cremation has taken place. His wit and wisdom will be missed. Arrangements handled by Hackett-Metcalf Funeral Home. www.hackettmetcalf.com
Published in Heritage Newspapers on Jan. 21, 2018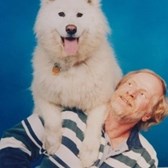 From 1997 reunion brochure Bill wrote:
I graduated from college with the idea of becoming a teacher, only to find that I don't like being indoors and don't get along all that well with teenagers. So, now I'm a construction foreman, which means I get dirtier than anyone else but I have a title. I never got married because no sane woman can stand to be around me for any length of time. The dog tolerates me because she is an idiot, and I keep the gate locked so she can't leave. I considered suing Lowrey High and District #77 for failing to teach me the proper social skills, but my lawyer (and our class president) reminded me that I was damned lucky they were able to housebreak me and teach me to eat with utensils. I can still remember how proud my parents were at graduation. SIGH!"
Click here to see William Phillip's last Profile entry.